As stated in my previous post, I'll give an unabashed review of Wootheme.com's new WordPress plugin known as Sensei LMS.  As a pre-cursor, it should be known that this is the very first version released.  There is no doubt that they will improve upon the blueprint they have here, but we'll review it in it's current form.
Overview of Sensei LMS
First impression:  Simple, fresh, cool.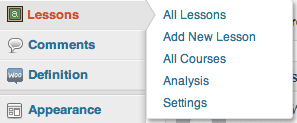 The plugin adds a "Lessons" menu on your administrative side that has some basic functions such as Courses and Lessons.
You can add a "Course" and then add a "Lesson" inside of the course.
You can see a simple Analysis screen of the Users and their Scores in the Course.
The Settings link offers some simple interface and set up options for the courses and lessons and some Woocommerce options if you wanted to sell your courses.
Adding a Course
Adding a course is as easy as making a new post in WordPress.  The problem is that there is no category structure.  How do I organize my courses into categories?  You can't.
You can add Course Prerequisites (must complete Course 1 to access Course 2), Feature the course on your courses page, add video, etc.  Basically it's a post.
Simple, save and done.
 Adding a Lesson
The Add Lesson screen is very similar to the Add Courses screen.
There are a few differences such as Lesson Length, Lesson Prerequisites, Lesson Complexity dropdown, and Lesson Quiz.

The Lesson has the ability to assign a pre-requisite lesson prior to being allowed into the next lesson.  So you must complete Lesson 1 to be able to open and take Lesson 2.
Lessons also have a Quiz (which is very simple)  See next section.
There are no other forms of assessment.  Quiz only.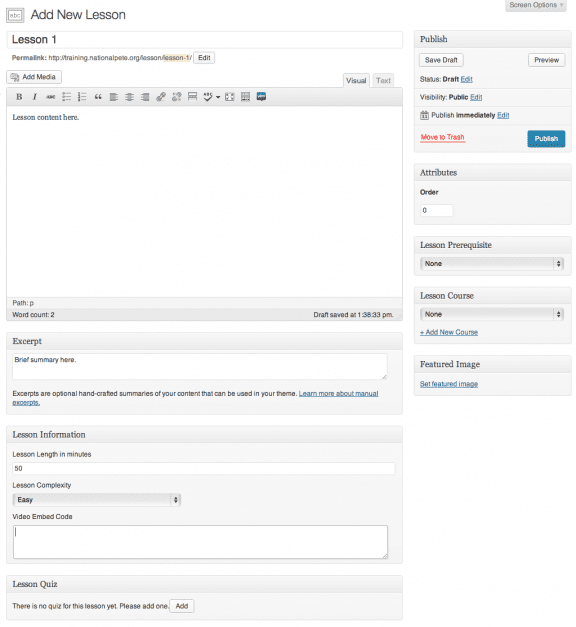 Quizzes
The Lessons require you to have a quiz.  If you do not have a quiz in your lesson, a warning message will be shown to the student unless you make some template file changes.  Yeah, really.
Quizzes offer only one type of question type:  Multiple Choice.
You can't add additional answers, or much more than what you see here.
Woocommerce Integration
You can integrate Woocommerce (shopping cart) into the so called LMS, to sell courses. Basically, you'll create a product and then in the Courses area, you'll select the product that corresponds to the course you want to sell. That will create the button to buy the course.  It's a cool feature.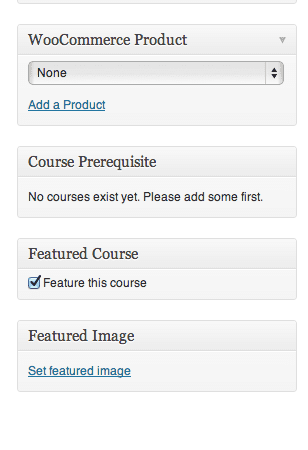 Analysis Screen
The Analysis screen shows an overview of your courses and users inside of the course.  It also shows you who completed it and what their score is.
What is looks like on the front end
Love the progress bars that show the student how much they need to do prior to completing the course.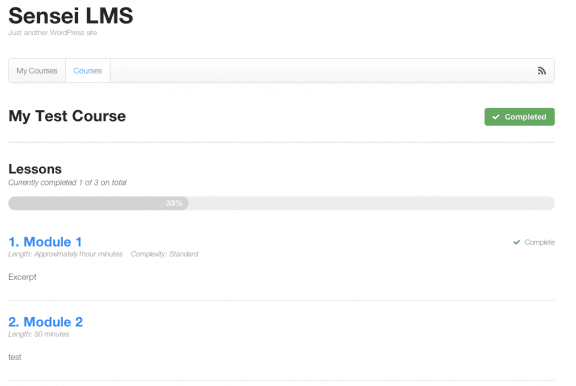 The LMS Breakdown
What We Liked
Simple interface, easy to set up a course, easy to associated a lesson to a course, and content creation seemed to be fairly straight-forward.
The integration with Woocommerce – Cool. Selling courses is attractive and if you can use Woocommerce with all of it's built in credit card processors to do it – then it's a bonus.
Beautiful front-end interface.  All of the WordPress goodness and easy customization comes along with this light-weight plugin.
Woothemes advertises that other plugins will integrate nicely here so if your favorite plugins shouldn't have any problems playing nice with Sensei.
What We Didn't Like
On its surface, we know it's Version 1.  Fine, we get it.  There needs to be more work done.  However, to charge for this plugin in its current state is preposterous.
It's buggy.  Flat out.  It seems their testing was not thorough at all.  I downloaded, installed, and played around with this plugin for 2 hours before I found multiple issues ranging from bugs, to layout issues, to theme compatibility problems.  I do not recommend this version for any kind of production environment.
Assessments:  The LMS offers 1 type of assessment in the form of a MC quiz.  It's not 1995 anymore 🙂   E-learning training and Online learning requires more options for assessment than a quiz. Assignments, Uploads, Discussions, etc.  It just isn't here.
Groups: There are no group options in this version.
SCORM: No support for SCORM, however I did talk with SCORM Cloud yesterday and was really impressed with their products. So if you really needed SCORM support in WordPress, you'd want to look at their pricing.  I do not see this as something Woothemes will take on because of it's complexity.  Perhaps they can form a partnership of some sort but for now it's just not there.
Reporting: Reports are weak.  There should be ways to break down courses, lessons, users, etc.  You should be able to see export options, charts, etc.  It's not there.
User Management/Grading: One of the biggest things that shows as a red flag is the ability to manage users in the courses.  You cannot enroll or unenroll students into courses. The only way is to have the student register themself.  You cannot change grades, you cannot give a student credit manually, etc.  There is no backend control.
Student Dashboard: It's the WordPress Dashboard.  There should be a more refined dashboard for students to see the courses they are in, what their scores are, etc.  Or just lock them out of the dashboard altogether and have everything handled on the front end.  Yes, we know this can be done with some custom WP work, but for the average user and wide adoption of this plugin, it should be done for them.
The talk around LMS's in WordPress lately appear to come from the overly bloated and overly expensive LMS systems on the market.  This looks like a good start, but there is much more to do to be taken seriously in any large marketplace.  At this point, it's too simple.  Your thoughts?